Spring into summer with Rose!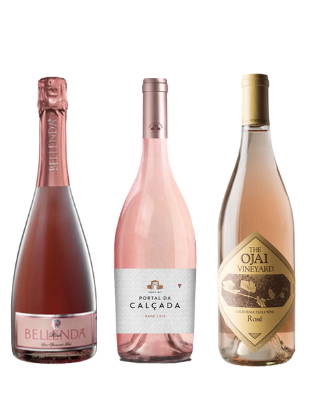 Come take a trip with us around the globe and discover some of the finest rosè wines from each region.
First... welcome to Italy and Bellenda Winery! Founded in 1986, Bellenda has been crafting some of the finest proseccos that showcase both the personality of its terroir and the people who make it. This 100% Rose of Pinot Noir, matured sur lie for over 72 months, and is perfect for both sipping or pairing with food.
Next stop.... Portugal and Quinta da Calcada! One of the oldest producers in the region, they have been making wine in Amrante since 1917. Their Vinho Verde Rosè is clean, fresh and lightly acidic with a striking bright pink color.
And lastly let's head back to California and visit The Ojai Vineyard. Founded in 1983, the Ojai Vineyard was created with the idea that the key to producing special wine is the care that's taken in growing the grapes. This organically produced Rosè is equal parts Syrah and Carignan with a smidge of dry Riesling, and has an intense and evocative aroma as soon as you open it.
Each 3 Pack Includes One Bottle of Each
2018 Bellenda Winery Brut Rosè $23
2018 Porta da Calçada Rosé $15
2018 The Ojai Vinyard Rosé $25
Total Retail Value: $63
Special 3-Pack Price: $55 (12.7% discount)
For CA Residents: Shipping is included
For non-CA Residents: $15 Flat Rate Shipping